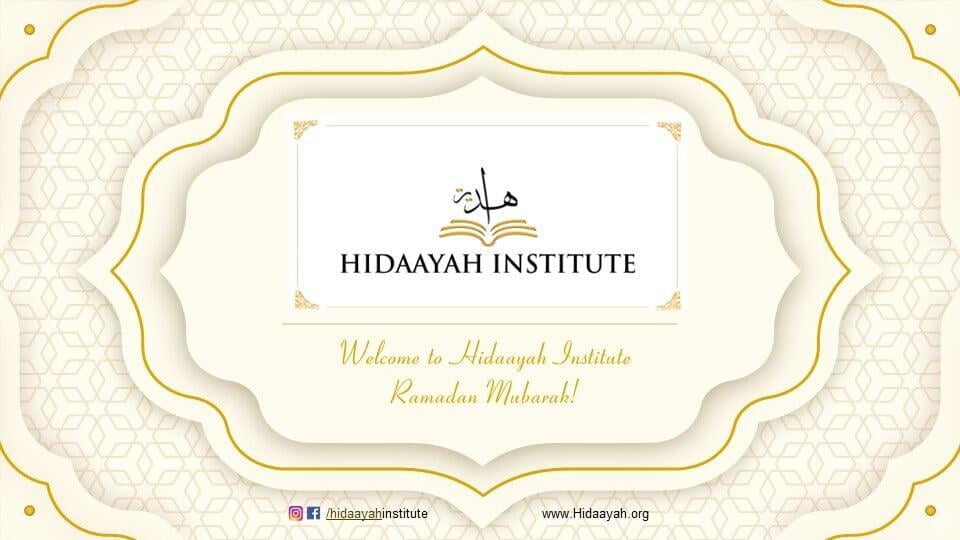 Support Hidaayah Institute in the Last 10 Blessed Nights

Ramadan is the time of giving and increasing in reward. Alhumdulilah! Hidaayah Institute now has an open location to help and make a change by teaching the beauty of Islam to Muslims all around the world. Your support goes a long was in helping us a achieve this great goal inshAllah.

Whoever calls to Hidaayah (guidance) will have a reward similar to those who follow them, without detracting from their rewards at all.

— Prophet Muhammad ﷺ (Sahih Muslim)

Subhanallah! this course by the Sheikh has so much hidaayah in itself that you will be finding yourself reading and learning Arabic within no time. I never thought I would learn Arabic so quickly and would be looking forward for every class to learn something new.

Kulsoom (Jeddah, Saudi Arabia)

Well Organize and Structural
May Allah reward you and bless you for such a well organize and structural on-line class with such an amazing, passionate and best teacher. I thank Allah for guiding me to this class. Thank you Hiddayah and Thank you so much Shaikh Fazal, for being so dedicated and patience. AlhumdulilAllah

Seema Siddiqui (California)

Mashallah!! Cannot say how much I have learnt - Arabic and Akhlaq - Sheikh Fazal Bari is a wonderful, patient and knowledgeable teacher. Look forward so much to hearing his words of wisdom each week. May Allah bless you all. Jzk Allah

Alhamdulillah, I always wanted to learn Arabic but always thought it was difficult . Sheikh Bari makes it very easy . May Allah reward him and his team in this world and hereafter Ameen

Dr. Arshad Saleem Shaikh (Kuwait)

Absolutely the best course to learn Arabic for beginners. Shaikh Fazal Bari makes things extra easy, always correcting our mistakes with a smile.

Syed Hassan (Toronto, Canada)

Engaging and Motivational
Struggling through the language of the Quran is humbling and extremely rewarding. Shaikh Fazal is an amazing teacher and motivator. He paces the class well and keeps it engaging. My connection with the Quran is more meaningful and this program is truly the key to unlock a lifetime of learning.

Nabila Babar (Raymond, WA)
Opportunity of a Life Time
We seldom get an opportunity of this magnitude where we can seek closeness to Allah swt. Without knowing Arabic we don't know what we recite in Quran and Salah. Learning Arabic is a part of deen. When Allah wants khair for you he chooses you to attend this kind of gathering.

A dream come true today InshAllah. Learn to read the Quran with just 1 hour a week. A very well structured and organized course with audio and video recordings that will make learning easy for adults of all ages. Starting with the Arabic letters students learn to read the Quran in just 3 months. An opportunity you just can't overlook.
* This absolute beginners course is only for students who are not able to read the Quran
New Course 2023
If you had ONE wish, would it be to learn Arabic and understand the Quran...? The One Wish program is what you are looking for and now it is 100% Free. Enjoy live interactive classes from the comfort of your own home. With thousands of students benefiting every year, join the One Wish Program and change your life forever. Shaikh Fazal Bari makes is very fun and extremely easy. Arabic is not just a language, it is your religion.